Portal, Arizona, located at the base of the Chiracahua Mountains in the SE corner of the state, has a population of about 60 people. It is a birder's paradise, as well as a great location for those interested in "dark sky" astronomy. Many come here for the hiking at this tiny slice of the Coronado National Forest and to visit the Chiricahua National Monument.
WELCOME is the word from Portal residents to visiting birders. It is an area immersed in birding and the few houses on the short main street have the welcome mat out.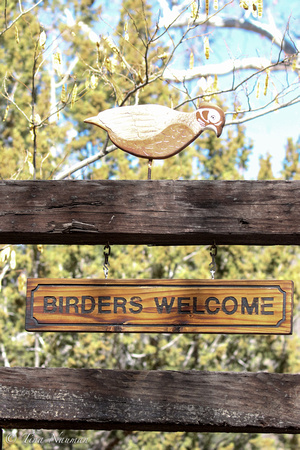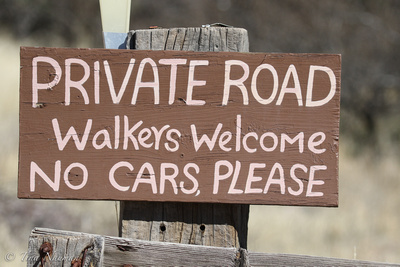 Can you imagine looking out of your windows on any day of the year, at any time between sunrise and sunset, and find people with binoculars, cameras and bird books invading your space?
In any other location there would be cause for a 911 call!
Such amazing people to open up their space and lives to strangers!
It's a Hobbit House!
and
A step back in time.
Blue-throated Hummingbird and Western Screech Owl were only a few of the special finds in Portal.
On my way up the mountain I found Paradise! Hmmmm.... I've been to Hell in Michigan and Paradise in Arizona. I missed the entrance sign to Paradise and was a bit concerned when I apparently got kicked out.
An old house in Paradise
and is this a portal to Paradise?
Too big of a hike for me to check it out and I might be afraid where I'd end up!
Does anyone else find this sign a bit confusing? Apparently pumping water for irrigation is causing a drop in the water table. This can cause a very sudden crack to form that can be small or as large enough to swallow cows, horses and cars. The road here was an unpaved road that was as smooth as can be. Are those antennas that will send out a signal?
This area is also known as the last stronghold of Cochise where he and 200 followers eluded capture for more than 10 years by hiding out in the adjoining Dragoon Mountains, from which they continued their raids, always fading back into their mountain strongholds.
I camped just across the border in Rodeo, NM which is known for its dark skies. Campers cannot have any outside lights on and must close their blinds so as to keep the area as dark as possible. Even a flashlight, unless it has a red light, is banned. No one shut the light off on the almost full moon though so I was up at 4 am, after it set, to enjoy stars that are rarely seen in the United States due to light pollution.